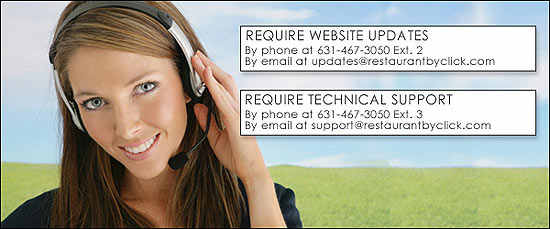 Restaurant By Click knows how important it is for your website to work hard and smart for your small business each day. That's why our project managers have the experience and know-how they need to handle requests for website modifications, to provide technical support, and to answer questions about your online marketing options.
Here's what you can expect from Restaurant By Click:
30 minutes of free editing and design support each month
To help you keep the content on your website fresh and up-to-date, our project managers are available to update menus, edit coupons & specials, add images, revise copy, or update the contact information for your business. And we provide this service to you at no additional charge for 30 minutes each month.
In-house, U.S.-based technical support that's available 24/7
To give you peace of mind when it comes to the day-to-day functionality of your small business website, our in-house, U.S.-based technical support experts provide round-the-clock assistance.
Knowledge about Online Ordering, Reservations and Marketing options
Whether you're interested in learning more about our online ordering, online reservations, promotional services, search engine optimization techniques, or professional logo design, our Internet Marketing Specialists have the information you need. And because the success of your small business is important to us, we want to make sure that you're informed and prepared at every step of the way.
Your Project Manager is available to update menus, coupons, specials, add images, revise copy, or update the contact information. We provide this editing and design support to you at no additional charge for 30 minutes each month. You can contact your Project Manager Monday through Friday from 9:00 a.m. to 6:00 p.m. ET:
By email at updates@restaurantbyclick.com
By phone at 631-467-3050 Ext. 2
By fax at 631-467-3050
Our in-house, U.S.-based technical support provide round-the-clock assistance for you and your website. You can contact our technical support team 24/7:
By phone at 631-467-3050 Ext. 3
By email at support@restaurantbyclick.com