Competition in the restaurant industry is fierce, but if you can't stand the heat, get out of the kitchen, right? Fortunately, Restaurant By Click lets you stay cool while your competition sweats the details. Our simple, but deceptively powerful restaurant email marketing lets you create mailings in less than time than it takes to cook an appetizer - with results that will keep customers coming through the door.
What can someone in my field do with Email Marketing?
Develop and manage a VIP guest list
Advertise menu changes, special themes, discounts and parties
Customize templates to reflect the aesthetic of your website
Distribute a newsletter educating diners on your cuisine and menu choices
Create Emails With Ease
Whether you're new to email marketing or are a seasoned pro, we have email creation options to suit yossur style. Our tools take the work out of email creation and guide you through, step-by-step.
You'll hit the ground running when you use one of our 700 professional, pre-designed email templates, perfect for any size or type of business. Or if you're sporting some technical mojo, you can customize a template, or upload your own HTML. We make it quick, easy and nearly effortless.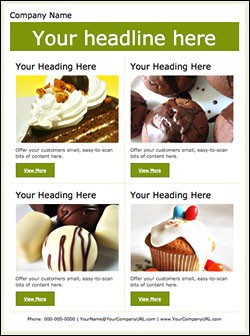 This one time fee allows
you to use this beautiful newsletter design
for each mailing. Call us to order.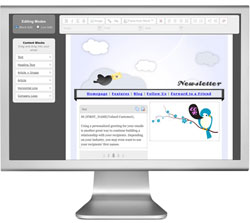 Staying in contact
with your customers
equals increased profits.